Rich history and culture combine delightfully in this spirited city nestled at the end of a beautiful fjord in the sheltered Bay of Islands. During fall, the Blomidon Mountains which surround Corner Brook are ablaze with vibrant shades of red, orange and yellow. Visitors are touched by the genuine warmth of the people and inspired by the raw, unspoiled natural beauty of the city.
Corner Brook, located in Western Newfoundland, is a popular port of call for cruise ships following in the footsteps of the Vikings on a Transatlantic itinerary and is also a popular port of call for cruise ships traveling through the Gulf of St. Lawrence on a Canada New England itinerary.
The area is steeped in history and the Bay of Islands was originally charted by Captain James Cook in 1767. Cook spent several weeks exploring this three armed fjord and named many headlands and coves.
Corner Brook is also an ideal jumping off spot for visiting world famous Gros Morne National Park, a UNESCO World Heritage Site and the scenic Humber Valley. This is adventure's hometown! With walking and hiking trails, biking, rafting and ziplining just minutes from dockside, there are endless opportunities to enjoy nature at its finest.
ATMs in Corner Brook work on the Cirrus or Plus network. The currency is the Canadian dollar. Most major credit cards are accepted. US dollars are also accepted at numerous places; change may be given in Canadian.
Summer temperatures range from 15 to 23 degrees Celsius (60 to 75 degrees Fahrenheit). Spring and fall temperatures feature mild days and cooler nights.
The population of Corner Brook is just over 20,000 and the region is home to approximately 40,000 people.
The language primarily spoken in Corner Brook is English. Newfoundland and Labrador is known for its distinct dialects which range from community to community, influenced by English, Irish, French and others.
What makes this place so unique?
Western Newfoundland rivals Norway for its fjords. The Port of Corner Brook is located at the end of Humber Arm, a 35 nautical mile fjord which is one of the longest in Atlantic Canada.
Western Newfoundland is known for its unique geology. Nearby Gros Morne National Park has UNESCO World Heritage Status for its mantle rocks which stand in mute testimony to a continental collision millions of years ago. Similar rocks of the Blow Me Down Mountains can be seen from your cruise ship while sailing down the Humber Arm into Corner Brook
Gros Morne National Park has some of the highest concentrations of moose in the world even though moose are not native to the island; they were first introduced in 1878. The mountains near Corner Brook have some of the most southerly caribou herds in North America.
Newfoundland and Labrador has over 17,000 kilometers of majestic coastlines – fjords, inlets, coves guts, bays and tickles… amidst picturesque historic towns and fishing villages with parks and wilderness throughout.
Newfoundland has over 300 different species of birds including falcons, hawks, osprey, eagles and the largest Atlantic puffin colony in North America.
Newfoundland is renowned for the friendliness of its people so don't be surprised if a Newfoundlander invites you home for dinner or in for a "mug up and a yarn" (a cup of tea and a chat) as the friendliness is legendary and the invitation genuine as hospitality and openness are the way of life.
Because of Newfoundland's island location, it has its own unique time zone, ½ hour different than the rest of Atlantic Canada.
The island of Newfoundland does not have poison ivy, snakes, raccoons, porcupines or skunks but it does have over 300 species of wild orchids.
The provincial flower is Pitcher Plant, a plant that eats insects.
Newfoundland and Labrador is the only Canadian Province to have: a dictionary, a pony, and two dogs – the Newfoundland Dog and the Labrador Retriever.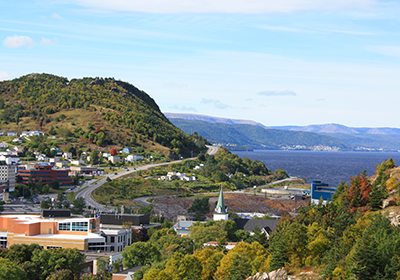 Upon arrival, passengers and crew receive a warm welcome from our friendly cruise staff. You may also meet a friendly Newfoundland dog (or two) who love to welcome passengers and crew at dockside!
A variety of services are available at dockside:
Dockside welcome with local musician(s) playing traditional Newfoundland music.
Information Officers available to passengers and crew throughout the ship visit both onboard the ship and at the dockside information kiosk. Look for the red jackets and green Newfoundland and Labrador tartan scarves!
Complimentary personalized souvenir luggage tags and locally made candy for passengers and crew.
Complimentary tourist maps and guides for passengers and crew.
Complimentary shuttle service from port to downtown available to passengers and crew.
Covered market area at dockside featuring souvenirs and locally made items.
Access to wifi network in the immediate port area.
Taxis are available at dockside and offer flat rates for tours of the area.
Other services are available to cruise ships, including:
Presentation of gifts and commemorative plaque to Captain for inaugural visits.
Onboard entertainment for passengers featuring local musicians upon request.
Onboard lecturers on the history, geology and culture of the area upon request.
Explore Sights and Sounds of Corner Brook
Wander the city streets of Corner Brook. Explore the museum, gift and craft stores or have a meal in one of the local restaurants. Downtown, including West Street, Main Street and Broadway are within walking distance of the dock. Bicycle rentals are available downtown for passengers wishing to explore the city's untouched natural beauty on wheels.
Captain Cook's Trail
See picturesque fishing villages following in the footsteps of Captain Cook who charted the Bay of Islands in 1767. Stop by the Captain Cook Historic Site and see a beautiful bronze statue of the Captain while enjoying a breathtaking view of the entire bay.
Gros Morne National Park
Visit the national park, a UNESCO World Heritage Site, on a full day excursion from the Port of Corner Brook. The park is renowned for its unique geology, rich heritage and abundant wildlife. On the South Side of Gros Morne, stop at the Tablelands, one of the few places in the world where you can actually walk on the earth's mantle. Further north, visit beautiful seaside communities along the rugged coast as well as the Lobster Cove Head Lighthouse perched at the edge of Rocky Harbour.
http://www.pc.gc.ca/en/pn-np/nl/grosmorne/index
Marble Zip Tours
Experience the thrill of the first zip line in Newfoundland & Labrador! Strap yourself in, take a deep breath and hold on tight for an unmatched view of the stunning Humber Valley. Zippers can reach speeds of up to 80 km across nine zip lines which reach heights of up to 300 feet. As you zig-zag between twelve platforms, catch a breathtaking look at the 200 feet long Steady Brook Falls raging below. Western Newfoundland's newest outdoor attraction – a high ropes course – is also available on site.
www.marbleziptours.com
Explore the Corner Brook Stream Trail
The Corner Brook Stream Trail follows the meandering Corner Brook Stream through the centre of the city. The groomed trail system is well suited to walkers of all ages, and includes gravel, stairs and footbridges, with benches and signage throughout. Highlights include the Glynmill Inn Pond and, on the more rugged upstream section, a viewing platform of the gorge area which offers a spectacular view of the upper Corner Brook Stream. The upper and lower sections of the trail system converge at Margaret Bowater Park. In the fall, the park is ablaze with the glorious fall colours that sweep through the area. A free app to guide visitors along the trail network, Tales from the Trails, is available for download from
www.cbstream.com
Explore the Humber River
The Humber River is the largest river in Western Newfoundland and is known for its salmon fishing and boating. The river is at its most scenic as it flows to the sea through the spectacular Humber Canyon near Corner Brook. You can choose the adventure of a kayak or the comforts of a raft to experience the thrill of the river and the rapids at Shellbird Island. Local guides will customize packages to suit the abilities of the passengers.
Boat Tours
Departing from the Bay of Islands Yacht Club, you can cruise the waters of the inner Bay of Islands to Woods Island and its protected harbour or visit many other scenic destinations in the Bay of Islands. Cruises with local live music capture the essence of a true Newfoundland experience.
www.crystalwatersboattours.com
Departing from Cox's Cove on the North shore of the Bay of Islands, cruise into a remote wilderness fjord in the outer Bay of Islands aboard the Pilgrim. Enjoy majestic mountainous scenery while watching for minke and humpback whales, bald eagles and osprey. Listen to live musical interpretation of Newfoundland as well as narrative interpretation of the resettled villages and Dorset Paleoeskimo site you'll see along the way.
www.truenorthtours.ca
Experience Local Arts & Culture
Visit the new Rotary Arts Centre in the lower level of City Hall. This centre, opened in the fall of 2014 has artist studios, a gallery and a performance space. Check with Information Officers for art exhibits or other special events that may be happening duirng your port call to Corner Brook. There are numerous galleries in town featuring local artwork including prints, paintings, hand knit items and jewellery.
Tempt your Tastebuds
Newfoundland and Labrador is known for its unique cuisine. At many of the restaurants and cafes in town you will find menu items that you are not available elsewhere such as cod tongues or desserts made with Newfoundland wild berries such as bakeapples or partridgeberries. There are also several great local coffee shops in town serving up wonderful hot beverages and homemade treats and a local sushi restaurant. In addition to traditional Newfoundland food, Corner Brook is home to numerous interesting restaurants featuring flavours from China, Thailand, Vietnam, Jamaica and India.
Play Golf
For passengers looking to golf, there is a challenging golf course located just minutes from the port. The Blomidon Golf Course overlooks Corner Brook offering one of the best vantage points from which to see the Blomidon Mountains and the beautiful Bay of Islands. The nearby Humber Valley Resort also boasts a world class golf course.
It is recommended that you contact the Shore Excursion department onboard your cruise ship to book your shore excursion(s).
Corner Brook Port Corporation is a partner port of: