Mural Project Continues with Artist Selection
Jennifer
The Port mural is part of the CBPC's cruise enhancement project which aims to create a more welcoming and inviting experience during the arrival of cruise ships. Our goal is to select a mural that not only captures the culture and essence of Newfoundland and Labrador but creates a sense of place, destination, vibrancy, and adds character to the area.
Eight proposals were submitted for consideration, each portraying Newfoundland and Labrador culture through a variety of styles, techniques, and designs. It was a difficult decision, therefore the team decided to short-list the proposals to allow for more discussion and reflection. The team is happy to announce the selection of Marshall Borland and Kelsey Street (see biographies below).
Marshall Borland and Kelsey Street studied visual arts at Grenfell Campus, Memorial University of Newfoundland. Marshall and Kelsey's mural incorporates a collage of images using mixed media including aerosol and acrylic paint. The mural depicts Corner Brook's strong sense of culture; the thriving arts community, indigenous heritage, wildlife and nature, and a variety of historical elements including the mill/lumber yard and the fishery trade within the Bay of Islands.
The project timeline remains flexible as the 2020 cruise season was recently suspended due to COVID-19. Regardless, CBPC is pleased to move forward with the project and expects the mural to have lasting impact.
Thank you to all artists who took the time to prepare and submit such wonderful work. CBPC will continue to post updates on the project throughout the summer. Questions regarding the project can be directed to Jennifer Hartley, business development manager by email info@cornerbrookport.com or phone 709-634-6600.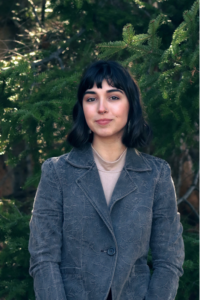 KELSEY STREET, BFA
Kelsey is a multi-disciplinary artist of Mi'kmaq ancestry from Bay of Islands Newfoundland whose practice is based primarily in fibre art, printmaking, and painting. Street graduated with a Bachelor of Fine Arts in visual arts from Grenfell Campus, Memorial University and has exhibited her work provincially and internationally at venues such as Grenfell Art Gallery, PULP Gallery, Tina Dolter Gallery, Craft Council, and Gatehouse Arts in Harlow, England.
MARSHALL BORLAND
Marshall is an artist from Central Newfoundland whose work is based in sculpture, printmaking, mural painting, and tattooing. Borland studied visual arts in the department of fine arts at Grenfell Campus, Memorial University and is a co-organizer of the Botwood Mural Art Festival. His work has been exhibited provincially and internationally at venues such as the Grenfell Art Gallery in Corner Brook, Brooklyn Art Library, and Gatehouse Arts in Harlow, England.