Safe Boating Around Large Vessels
Jennifer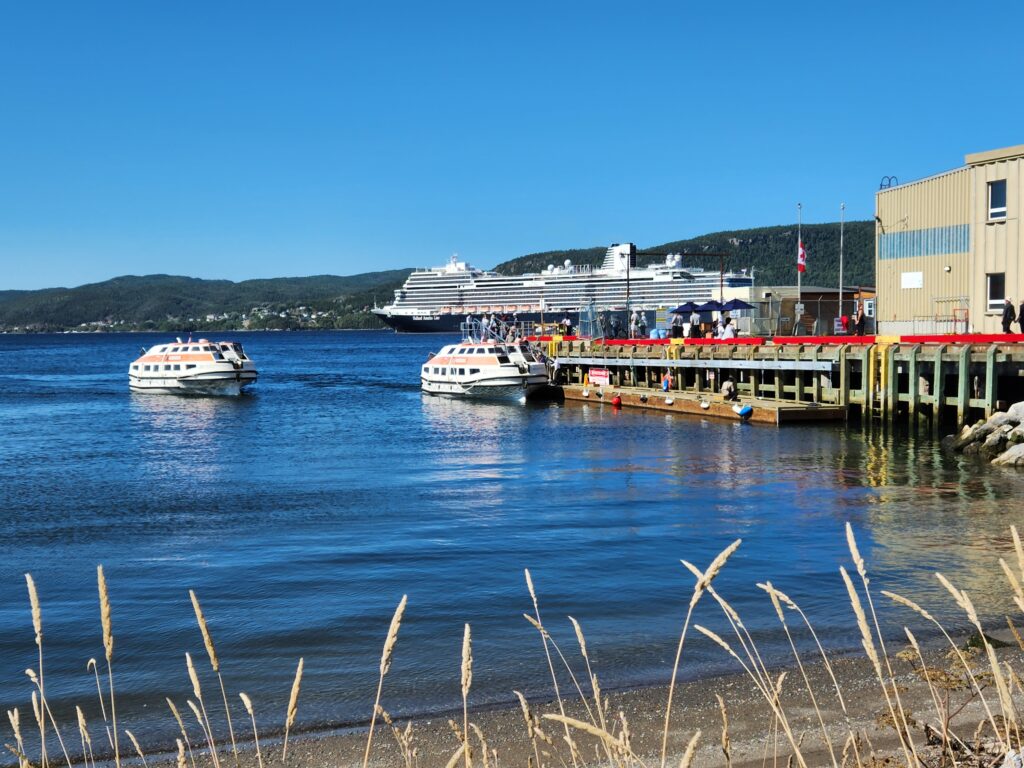 As Corner Brook welcomes the cruise industry for the 2023 season, there will be plenty of large vessels using the Bay of Islands over the next few months. Along with the weekly arrival of container ships, the Port of Corner Brook has 29 cruise ship calls scheduled to arrive.
Transport Canada's "Safe Boating Guide" provides important guidelines to follow when operating small boats like canoes, kayaks, or jet skis. To ensure safety on the water, it is important for all watercraft operators to prioritize safety as the Bay of Islands sees an uptick in vessel traffic. Regulations and guidelines exist to help boaters navigate shared waterways and mitigate potential risks associated with operating alongside larger vessels. Here are some key guidelines to keep in mind:
Always watch for others on the water and be ready to yield to large vessels in the safest way – keeping a fair distance away from larger vessels at all times. Use radar and radio if you have them.
Wear a Canadian-approved lifejacket or PFD (inflatable PFDs are not allowed). Choose a bright colour for better visibility.
Navigate in groups of other small boats, when possible, to be more visible.
Stay off the water in fog or high winds and be aware of changing wind conditions.
Stay clear of docked vessels, vessels in transit, vessels in tow and working fishing vessels.
Blind spots on large vessels can be dangerous as pleasure craft boats or other objects may not be visible from their perspective. This can put small motorized and non-motorized boats at risk when approaching. It's critical for small pleasure craft boats to remain at a safe distance from large boats, as their power and reduced maneuverability can pose a real threat to others in the water. It takes a significant distance for large vessels to come to a complete stop, so it's essential that smaller boats yield to them. This is especially important as the engines of large vessels create strong underwater currents which can capsize smaller boats or pull them under the larger vessel. To avoid these potentially dangerous situations, it's imperative that operators of smaller vessels maintain a safe distance from larger ones.
Staying out of the shipping channel is important for safety and to avoid disrupting the flow of marine traffic. Vessels that stray into the shipping channel risk colliding with other boats, causing accidents, and potentially harming people and the environment. To avoid confrontation within the shipping lane, it's beneficial for operators of smaller boats to be aware of the signals made by large vessels to aid communication. A large vessel will remind you to give way by giving five or more short blasts of its horn. Additionally, disrupting the flow of marine traffic can cause delays and economic losses for businesses that rely on shipping. It is essential to follow proper navigation rules and stay clear of the shipping channel to ensure a safe and efficient waterway for all.
It is crucial to comply with Transport Canada regulations and guidelines to ensure a safe and comfortable experience for both large vessels and smaller watercraft (pleasure crafts) over the upcoming months.
Transport Canada's "Safe Boating Guide" can be found at the following link (https://tc.canada.ca/sites/default/files/migrated/tp_511e.pdf)